Top five takeaways from the first ever policy track at the 2023 Behavioral Health Tech Conference
Detail page
The Meadows Mental Health Policy Institute proudly partnered with Going Digital: Behavioral Health Tech to lead the first ever policy track at the 2023 Behavioral Health Tech Conference, held Nov. 15 – 17 in Phoenix, Arizona.
The conference is the largest one of its kind dedicated to increasing access to care through digital behavioral health technologies and brought together a diverse array of stakeholders, including health systems, behavioral health providers, health plans, investors, startups, and policymakers to share best practices to scale up behavioral health solutions that leverage telehealth, mobile applications, and other digital technologies.
At the conference, the Meadows Institute hosted eight sessions on the intersection of policy and the fast-evolving digital mental health scene.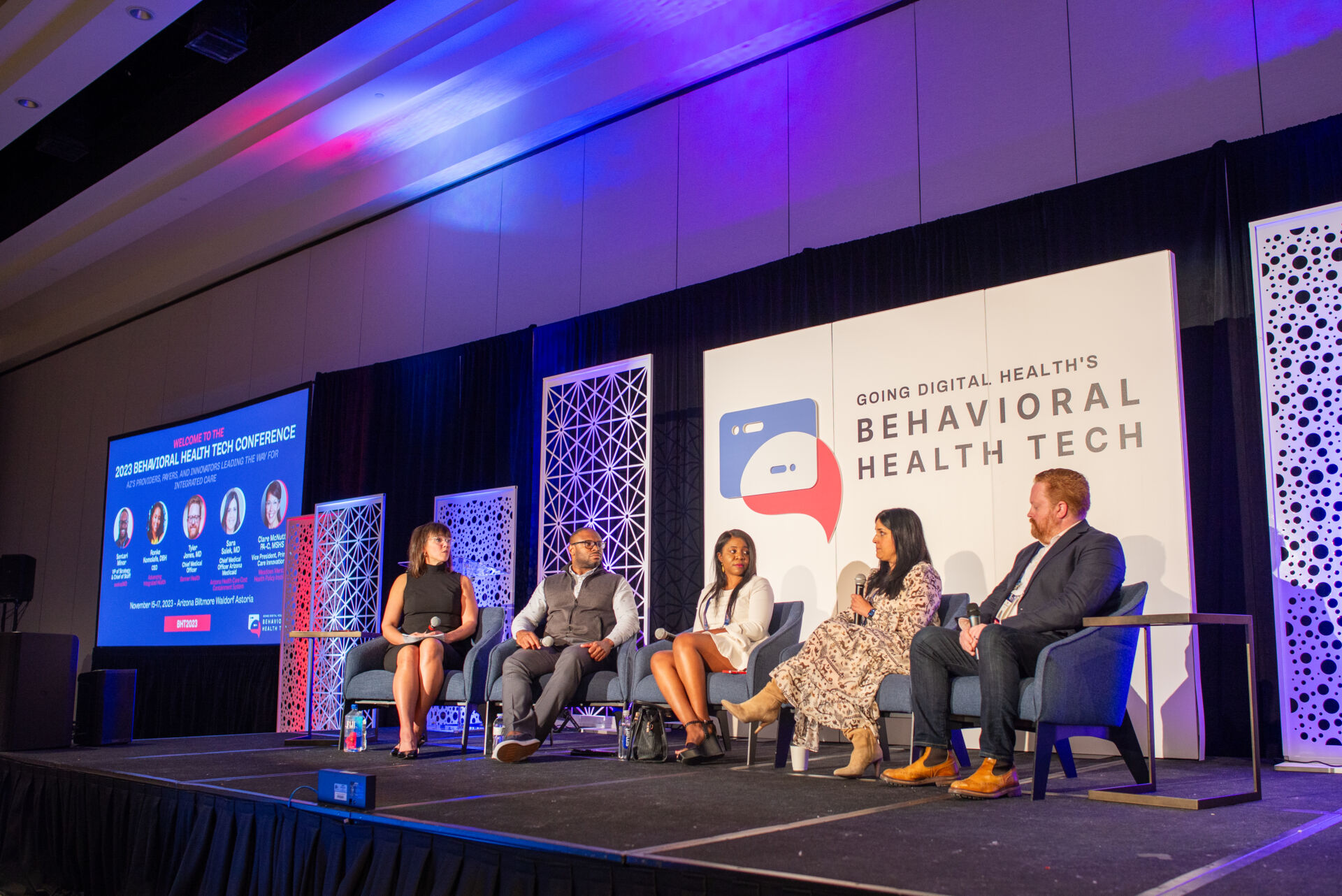 The Meadows Institute's Clare McNutt (L) moderates a panel at the 2023 Behavioral Health Tech Conference 
Here are five key takeaways:
1. "A hot space": Now is the time to get involved in policy.
There's never been a better time to get involved in mental health policy at the state and federal levels, panelists agreed. "Getting engaged in the federal rule-making process sounds unsexy, but we need to hear from you," said Thomas Novak, senior advisor, state policy, Office of National Coordinator for Health IT at the U.S. Department of Health and Human Services. In that same session, moderated by Meadows Institute Chief Innovation Officer Kacie Kelly, Susan Monarez, deputy director for the Advanced Research Projects Agency for Health (ARPA-H), revealed that ARPA-H is looking for "big, bold, visionary" funding proposals in FY-24 aimed at tackling some of the most complex, intractable challenges in behavioral health, with plans to fund projects on a rolling basis through March 24, 2024. Several panelists also warned of the danger of ignoring the policy realm. "If you don't engage in policy, it will be done to you," said Reginald Williams, vice president of international health policy and practice innovations and co-lead, behavioral health at The Commonwealth Fund. Kristin Kroeger, chief of policy, programs and partnerships at the American Psychiatric Association, put it even more bluntly: "If you're not at the table, you're on the menu." The good news, panelists agreed, is that policy makers are willing to listen. "We're working in a hot space. You have to come to the conversation prepared, but there is not a policy maker who won't have a conversation with you," said Williams. "Now is an opportunity to be engaged."
2. Talk like a human.
When engaging policymakers, an all-star panel of federal policy experts moderated by Meadows Institute Chief Policy Officer John Snook agreed that good communication is key. "Put yourself in the shoes of a staff person who probably covers 25-30 issues," advised Charles Ingoglia, president and CEO at National Council for Mental Wellbeing. Avoid jargon and acronyms, he said, and "try to speak in something resembling English." Don't forget about the power of personal stories, added The Commonwealth Fund's Williams. "Hearing stories of patients who have received health care is just as important as the data analysis that goes with it."
3. The public and private sectors must work together.
Government leaders and private sector entrepreneurs must collaborate if solutions to our country's complex behavioral health challenges are to be found. Neither side can go it alone, panelists agreed. "We need each other and are better for each other," said Erin Davis, a former state legislator and current vice president of government relations at Kooth Digital Health (North America). "The opportunities are massive and we're not pursuing most of them, but there's a lot of money to be grabbed by companies that have innovative solutions," said California mental health commissioner and venture capitalist Steve Carnevale. Successfully building such public/private partnerships requires trust, patience, ongoing communication, willingness to share risk and responsibility and the ability to appreciate the other's lens, said Dr. Sarah M. Wakefield, chair of psychiatry at Texas Tech University Health Sciences Center.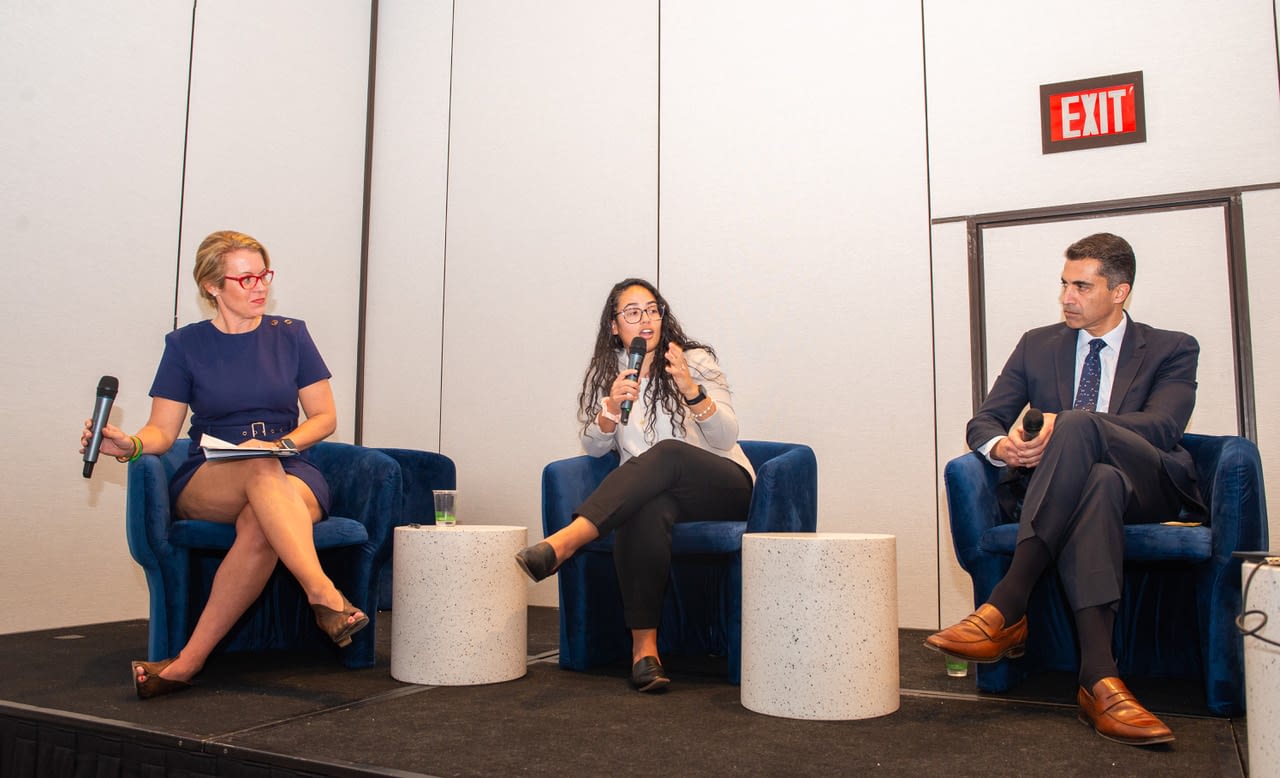 Pictured (L-R): Meadows Institute's Chief Innovation Officer Kacie Kelly, MindRight Health's director of coaching Jasmin Acevedo, and Meadows Institute's Chief Clinical Officer Hani Talebi discuss youth digital mental health at the 2023 Behavioral Health Tech conference
4. Integrated behavioral health care "should be the norm."
We're in the midst of a youth mental health crisis and families are trying to access care and don't know where to go, said child psychiatrist and co-founder and president of Bend Health Dr. Monika Roots. "Integrated behavioral health care should be the norm." Fellow panelist Dr. Mason Turner, senior medical director for behavioral health at Intermountain Health, agreed. "We will never hire our way out of the access problem without looking at new models" like the Collaborative Care Model (CoCM), which the APA's Kristin Kroeger called the "gold standard" of integrated behavioral health care. To speed up implementation of CoCM by primary care practices, educating primary care physicians and their staffs is key, said Roots. "CoCM supports primary care physicians. It does not create more work for them," she stressed. Families and patients need to hear the message, too, "that this will get them better, faster."
5. Technology is a "force multiplier."
In a virtual interview with Behavioral Health Tech founder Solome Tibebu, Meadows Institute President and CEO Andy Keller praised the ability of digital mental health technology to act as a "force multiplier" for the beleaguered mental health workforce, empowering clinicians to do more with limited resources by taking away some of the routinized work, such as scheduling, and helping patients overcome geographic barriers to accessing care. "The beauty of digital mental health technology is that it's accelerating closing that gap," Keller said. But many panelists acknowledged feeling trepidation about some aspects that remain unknown about technology, especially AI, which is advancing at breakneck speed. "We haven't thought enough about the guidelines and guardrails for AI," said Hopelab President and CEO Margaret Laws. "AI should be a complement to and not a replacement for human beings and the human touch," said Laws. But "while there is angst, there is also joy," said panelist Jasmin Acevedo. In her role as director of coaching at MindRight Health, Acevedo said she sees both the clinical effectives of digital health solutions and many non-clinical benefits. "Care doesn't always have to be tied to a diagnosis. Support is just as essential as clinical care for youth, particularly for BIPOC communities."

Meadows Institute's Chief Policy Officer John Snook moderates a panel at the 2023 Behavioral Health Tech conference