Behavioral health campus on fast track for city
Detail page
This article was published by Uvalde Leader-News on August 6, 2023.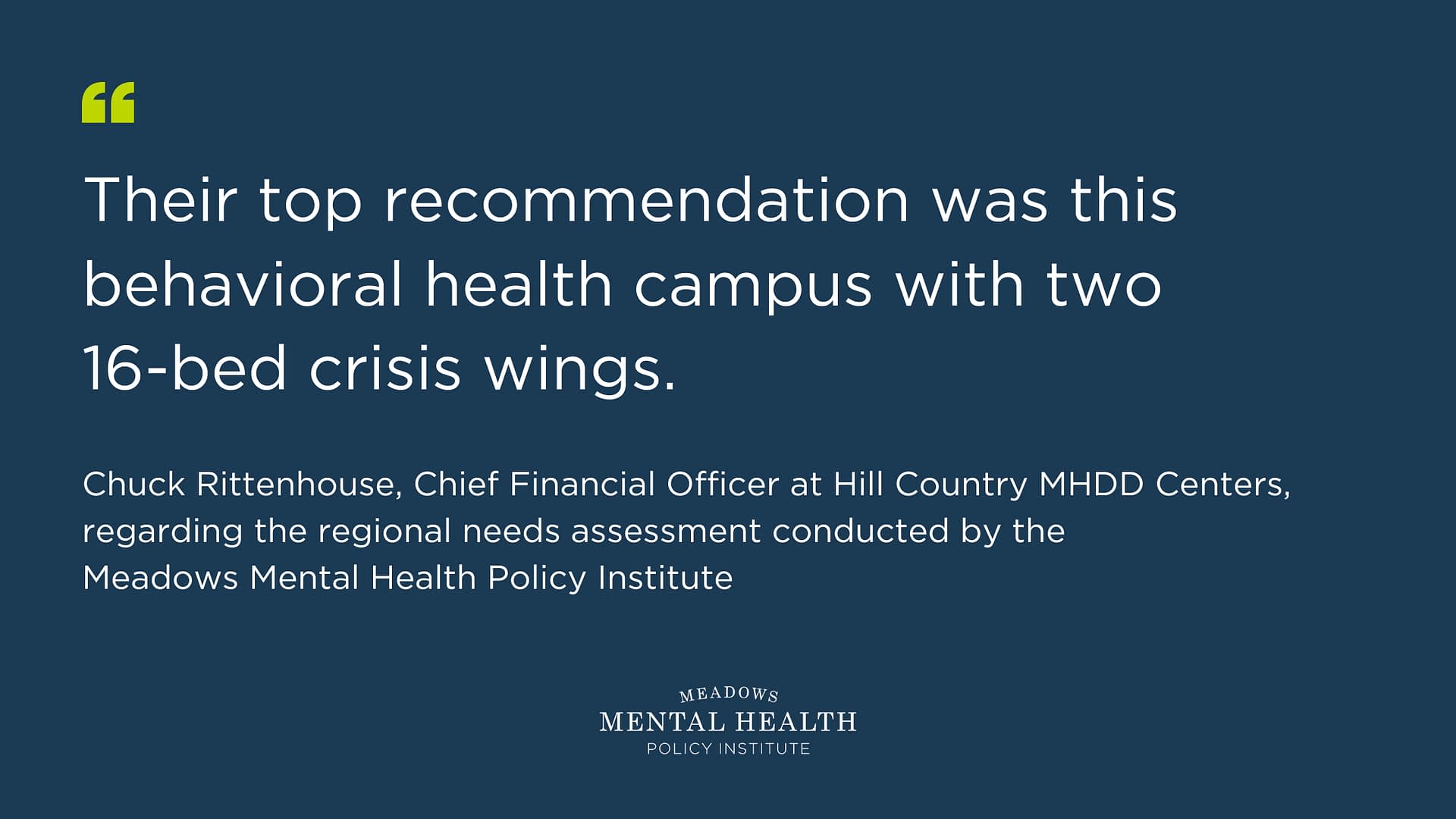 Five years after conception and a little over a year after the Robb tragedy, construction on a 40,000-square-foot behavioral health facility to be located just west of the city is scheduled to begin before the end of the year, according to officials with Hill Country Mental Health and Developmental Disabilities Centers in Kerrville.
The agency's spending plan calls for $30 million for the construction of a Uvalde Regional Behavioral Health Campus comprising both a 16-bed adult and 16-bed youth residential crisis facility, $3.6 million for equipment and an annual operating budget of $10 million.
The city of Uvalde in 2021 donated seven acres of land adjacent to the Uvalde County Fairplex on U.S. Highway 90 West for the long-awaited facility. It would employ about 132 people, including psychiatrists, nurses, counselors, case workers and direct care staff. Thirty-two of the positions would be filled by existing staff at the current Uvalde facility on the Crystal City Highway.
Chief financial officer Chuck Rittenhouse said the Uvalde project "just seemed to sail right through [the Legislature]." In the aftermath of the Robb shooting, a mental health facility for Uvalde became a very high profile project, Rittenhouse said. He also credited state Rep. Tracy O. King, Uvalde County Judge Bill Mitchell and Mayor Don McLaughlin Jr. for their advocacy. "They really led the legislative efforts … and we greatly appreciate their efforts because that's what really pushed it over."
The five-acre campus next to the Fairplex will accommodate the 32-bed crisis facility, as well as integrated outpatient operations. Rittenhouse described it as "one large building with a couple of wings extending off for the residential components." They currently are in the design phase, which is expected to be completed soon.
Of the 16 beds for adults, six would be classified as extended observation units. These would accommodate patients requiring emergency detention for up to 48 hours, such as people detained by law enforcement who pose a danger to themselves or others. The other 10 beds would provide treatment for up to two weeks for those who have been "stepped down" from the emergency detention beds.
The same arrangement would be repeated for the 16 crisis beds for youth and children, except the split would be four emergency detention beds and 12 beds for step down cases.
Rittenhouse said the 16-bed facilities that are "kind of popping up across the state" are affectionately referred to as "diversion centers." They are attractive to law enforcement because people in crisis who might be committing nuisance crimes can be taken to the diversion center instead of being incarcerated or delivered to an emergency room. "A very important element of this program is the 24-hour drop off capability."
"We will be able to detain him against his will, while we get some medicines into him and start to improve his brain health," Rittenhouse said. "After a couple of weeks with us, if you need longer then the patient would be taken of one those private psych beds that we talked about or he can return home and follow up at an outpatient clinic."
According to Rittenhouse, the original discussion about a facility in Uvalde, dating to 2018, centered around a 48-bed psychiatric hospital. At that time U.S. Congressman Tony Gonzales sought an earmark from Congress for $25 million to build the facility but received only $2 million. That left an enormous amount still to be funded.
In addition to that concern, officials with the Kerrville agency worried about finding the 150 people to staff the proposed hospital. At the time they were facing a workforce crisis that intensified under the pandemic. Rittenhouse observed that the state's Health and Human Services Commission had funneled $1 billion into facilities but were only able to operate 30 percent of the available beds because of staffing shortages.
By the time Rittenhouse joined Hill Country MHDDC two years ago, officials had pivoted to the idea of a behavioral health facility instead of a psychiatric hospital,
which they had no experience operating. The agency's forte was crisis programs, like the 16-bed unit they have operated in Kerrville for the last 13 years.
"There were still concerns, of course, around the funding, but then the tragedy occurred," Rittenhouse said.
Talks between Texas Gov. Greg Abbott's office and Uvalde officials about the shortage of mental health care in the region resulted in a needs assessment conducted by the Meadows Mental Health Policy Institute. "Their top recommendation was this behavioral health campus with two 16-bed crisis wings."
The Kerrville-based mental health agency hopes to recruit locally for as many of the new positions as possible. They are also in discussions with Southwest Texas College about implementing a mental health technician career track program.