Officials break ground on Permian Basin Behavioral Health Center
Detail page
This article was published by the Midland Reporter-Telegram on April 29, 2023.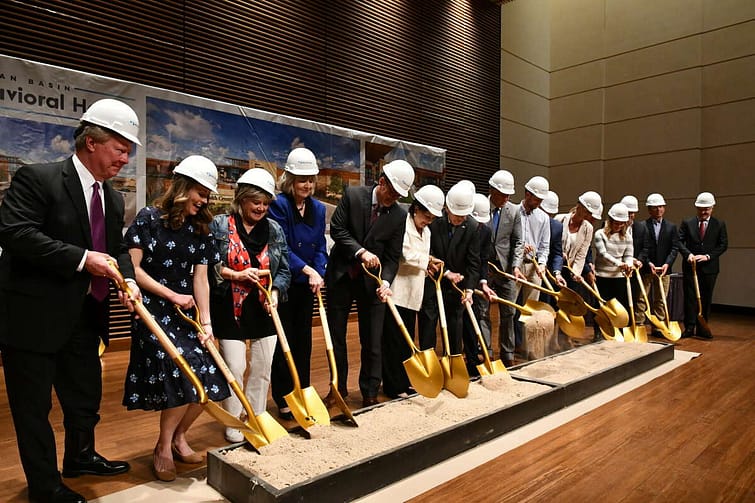 "It is not a great weather day, but it is a great day for the Permian Basin."
That is how state Rep. Tom Craddick started his conversation inside a packed Rea-Greathouse Recital Hall at the Wagner Noel Performing Arts Center while gusts topped out at 48 mph Friday.
The Midland Republican worked with Dade Phelan, speaker of the Texas House, state Rep. Brooks Landgraf (R-Odessa), hospital leaders in both Midland and Odessa, foundation leaders in the area and other state leaders to develop an idea that would become the Permian Basin Behavioral Health Center.
On Friday, community leaders, health care officials and elected leaders from Midland-Odessa joined Texas Facilities Commission officials to "break ground" on the facility that promises to change the treatment of mental health care in the region.
Background
The Permian Basin Behavioral Health Center received $40 million in funding in October 2021 from the State of Texas. The balance of the funds needed to complete the facility is being raised within the community. The 100-bed facility, which is currently in design, will be located between Midland and Odessa, on 54 acres donated by Diamondback Energy adjacent to the University of Texas Permian Basin's Midland campus.
"The current estimate of the total project cost has increased to $120 million," according to an update earlier this spring provided by Craddick's Office. "To date, the state's $40 million appropriation has been supplemented by $45.3 million in contributions and confirmed pledges, leaving a balance of about $35 million to be raised locally. While fundraising efforts are still underway, indications are that sufficient local philanthropic support will be available to fully fund the project."
A different center
Craddick made it a point to mention how the Permian Basin Behavioral Health Center is a game-changer, because while its construction will fall under the capable hands of the Texas Facilities Commission, it will be turned over as a private facility under the direction of health care leaders in Midland and Odessa.
A "landmark" project started something "that is unbelievable," said Craddick, who has seen it all having served in the Texas House since 1969. "People are looking at us as the model."
Craddick said lawmakers around Texas and beyond have asked him about how Midland-Odessa was able to put a project like this together. He said more facilities will be needed to handle the 500,000 Texans that live with severe mental illness.
In March Craddick's office said there is a new funding request for a 100-bed expansion and annual operating cost support from the State of Texas.
A long time coming
Former Midland Health CEO Russell Meyers is transitioning into a developmental role with the Midland Memorial Foundation. One area of focus is completion of the Permian Basin Behavioral Health Center. He told those in attendance Friday that the packed house "speaks to importance" of the ground-breaking and building of the center.
He recalled conversations that included Midland Memorial Foundation and Meadows Foundation officials eight years ago. He also thanked philanthropic leaders like the Scharbauer Foundation, FMH Foundation, Beal Foundation, Permian Strategic Partnership and Diamondback Energy for stepping up with resources to make the Permian Basin Behavioral Health Center a reality. There is more work to do on that front, he added.
He said the facility will be helped by Texas Tech University Health Sciences Center mental health experts already in Midland and officials from PermiaCare.
"This thing is going to happen, and it will be transformative to this region," Meyers said.
This story is available on Midland Reporter-Telegram's website here.