'COVID ProTEXion Campaign' boosts awareness, vaccinations for Texans with severe mental illness
Detail page
When the COVID-19 outbreak first hit the country in January 2020, William Boyd, executive director of PHOENIX House in Abilene, Texas, a membership-based community for people living with mental illness or trauma, felt like he was "flying blind."
Although the COVID vaccine became available under emergency use authorization in December of that year, the population he serves was "underrepresented and underserved" by vaccination outreach efforts for COVID-19, he said, despite mounting scientific evidence that people with severe mental illness were at heightened risk of extended illness or death from the disease and other other research demonstrating that even a modest effort to encourage vaccination leads to consistently higher rates of vaccination for people with severe mental illness than that of the general population.
Without a national vaccination strategy for people with severe mental illness, many people with SMI and their families in Taylor County, where PHOENIX House is located, were unaware of their increased risk from COVID-19 and were less likely to take personal protective measures, Boyd said.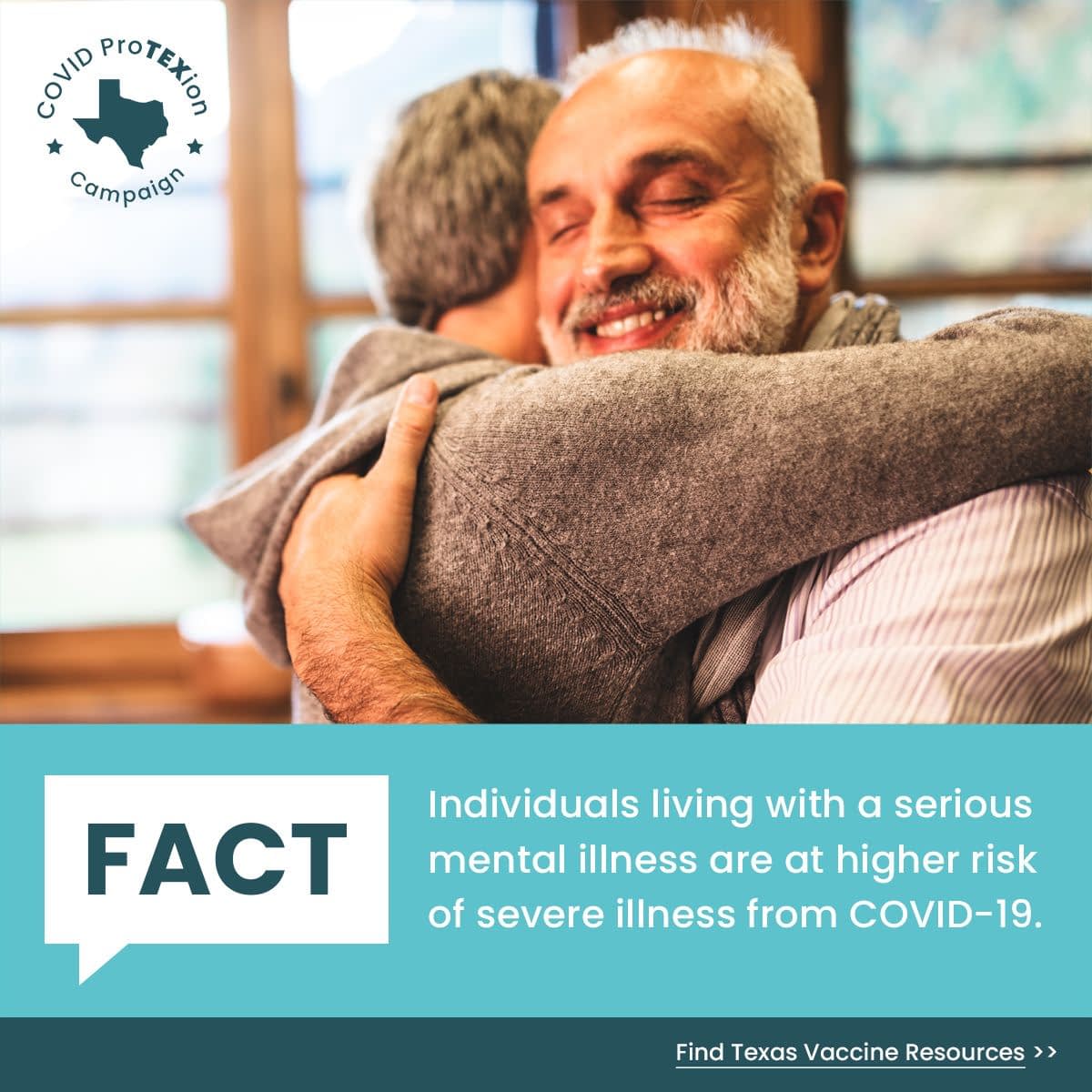 So when the Meadows Institute secured a grant last year from Texas A&M University, the Department of Health and Human Services — Centers for Disease Control and Prevention, and the Texas Department of State Health Services, to launch a Vaccine Equity Sprint to engage communities across Texas to design and implement strategies to improve the vaccination rates of people with SMI, Boyd jumped at the chance to be involved.
"When this grant became available, I wanted to participate, because it would enable me to talk with people in our target population face-to-face and would have the supporting information I would need, real numbers involving Covid and health care in general regarding our target population," Boyd said.
The 11-week Sprint, which the Institute oversaw from December 2022 through February of this year, was composed of seven Vaccine Equity Sprint teams, consisting of local mental health authorities, public health agencies, and community-based organizations, collectively serving an estimated 138,000 young people and adults with SMI in their service areas.
The teams set specific goals, identified target populations, and tested approaches to increase vaccination rates. Teams met weekly, sharing challenges and learnings with their peers. Other strategies included engaging trusted messengers, testing, and refining their messaging, and strengthening community relationships.
I am better equipped to combat future epidemics and public health emergencies because of my participation in the Sprint. – Wiliam Boyd, executive director of PHOENIX House
To help get the message out, the project team partnered with iHeart Radio to launch a statewide, bilingual, multimedia awareness campaign that ran in every Texas zip code, generating over 65 million media impressions between broadcast radio, streaming audio and social media platforms.
As a result of the Sprint, strategies were developed to increase awareness about vaccination for individuals with SMI. The project team also produced a downloadable toolkit that summarizes strategies to help other organizations promote vaccination among individuals with SMI.
At Camino Real Community Services Mental Health Clinic in Eagle Pass, Texas, Care Coordinator Adrianna Martinez said her participation in the Sprint helped her organization increase the vaccination rate of its target population – native Spanish speakers with SMI — from 16% to 25% in only a matter of months.
She credited both the culturally and linguistically appropriate materials generated for the Sprint and the mentorship she received from Institute leaders such as Vice President for Systems Transformation Lindsay Hunt.
"Personally, it was a great learning experience in which I was able to make connections with people committed to assisting and supporting their communities, and with professionals who shared all their knowledge to help us reach our goals," said Martinez. "All the information, the sessions, the videos, were on point. They cared about us as professionals, and they gave us the opportunity to express ourselves, our concerns, and to learn … They helped us to reach our goal."
Looking ahead, Hunt said the learnings from the Sprint are transferable to other public health challenges besides COVID-19.
"What I love about the model for change that the participants learned during the Sprint (select your target population, identify your trusted messengers, develop and hone the message, connect the message and the messenger, and make it easy) is that it can be applied not only to other vaccines, such as flu and pneumonia, but also to other health challenges," said Hunt.
PHOENIX House's Boyd agreed. "I am better equipped to combat future epidemics and public health emergencies because of my participation in the Sprint. I am better prepared for the next round, for whatever happens in public health, especially for people with SMI, the least [protected] among us."