Dallas County Smart Justice Project
Page detail
SUMMARY – The Dallas County Smart Justice Project aimed to reduce the number of people with mental illness who receive primary treatment in jail or only after encounters with law enforcement. With the support of the W. W. Caruth, Jr. Foundation, the Meadows Institute provided policy guidance to Dallas County during planning and implementation of their Smart Justice project.
Case Study Details
The Challenge
For too many people, a crisis requiring a law enforcement response is the first time a mental illness is acknowledged. Solutions were necessary that would keep everyone safe while quickly getting a person in crisis the emergency and ongoing mental health treatment they need.
Our Approach
In the first year, the Meadows Institute began a lengthy period of intensive data collection and analysis, interviewing approximately 1,000 police officers across every shift and every part of the City of Dallas and other cities within Dallas County.
After planning, we moved to an implementation phase, focused on practices including crisis response, earlier identification of mental illness, and improvement of court processes related to mental health. We also advised an increase in community services designed to treat people after they are released from jail, aiming to reduce the use of jails and ERs for people who routinely cycle through those settings.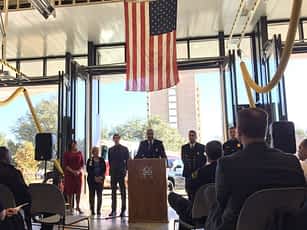 Among the most impactful initiatives was the implementation of the Rapid Integrated Group Healthcare Team (RIGHT) Care pilot program, which changed the way mental health crises were handled in South Dallas. Under RIGHT Care, these calls were answered by a team of three responders specially trained to handle mental health crisis calls—a police officer, a paramedic, and a mental health professional. The program also includes a mental health professional embedded in the 911 call center to triage calls and ensure the most appropriate response resources are identified.
Other initiatives included the creation of a real-time data-sharing system in which a partnership of local hospitals, the local mental health authority, and a private data analytic company used shared data to provide notice to a hospital emergency department and the mental health authority when someone potentially eligible for intensive community services is admitted to the emergency department.
Outcomes
The Meadows Institute's work, through the Caruth investment, has transformed parts of the justice system in Dallas, and the positive results are increasingly influencing the national conversation about smart justice.
Dallas County Smart Justice Project
In the News