Texas Child Health Access through Telemedicine (TCHATT)
SUMMARY – TCHATT provides telemedicine or telehealth programs to school districts to better identify and assess student mental health needs and provide access to mental health services through regional "hubs" supported by Texas medical schools. TCHATT was established in 2019 by the Texas legislature under the Texas Child Mental Health Care Consortium.
1.4M
Texas students could access TCHATT services as of July 2021*
*The University of Texas System
Project Details
Senate Bill 11 (86th Regular Session, 2019) established the Texas Child Mental Health Care Consortium to foster collaboration on pediatric mental health care among medical schools in Texas. The Consortium is responsible for overseeing five key initiatives, two of which are the Child Psychiatry Access Network (CPAN) and Texas Child Health Access through Telemedicine (TCHATT).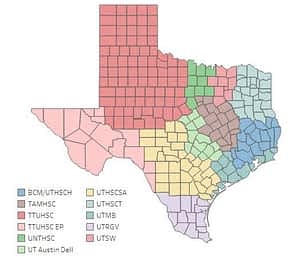 Under the TCHATT program, multidisciplinary providers at participating medical schools provide telemedicine services to public school students experiencing a mental health crisis at no cost to school districts. Providers work collaboratively with each other, family members, and school counselors to assess, triage, and stabilize a student prior to connecting them with providers based in their communities for ongoing support. Currently TCHATT services are offered statewide but in a limited number of districts due to the limited funding allocated by the legislature to the regional hubs supported by Texas medical schools.
The Meadows Institute has supported seven medical schools implementing TCHATT, with focused assistance largely related to research, implementation, and community connectedness.
These include:
Conducting evaluations of programs similar to TCHATT that pre-dated Senate Bill 11 to identify quality improvement opportunities and make recommendations to programs that were expanding to include TCHATT services.
Collecting and assessing data on school districts in medical schools' catchment areas.
Facilitating connections between TCHATT providers, school districts, and Education Service Centers.
Building regional mental and behavioral health databases and connecting with mental and behavioral health providers to help coordinate care and provide referrals to community mental health services after TCHATT services are complete.
Providing education opportunities to medical school and school district staff engaged with TCHATT.
Sharing relevant information on policy and best practices, in addition to identifying opportunities for expansion through policy and funding growth.